Residential
We offer a range of services to look after your commercial air conditioners. We have scheduled maintenance services, fixed price servicing and breakdown services. Depending on the service required, we can have technicians at your door in 2 hours for emergencies.
Our installation teams are available to design and install new systems in commercial premises including ventilation services for fresh air. Once installed, we are happy to maintain your new investment by designing a scheduled maintenance routine to lower your cost of ownership compared to reactive maintenance programs.
Split Systems

Split systems are permanently mounted systems with the compressor unit located externally and a separate indoor unit inside your home.
These can air condition one room or a specific area of your home. Split systems are available in reverse cycle (providing cooling in summer and heating in winter), also cool only models are available.
The units consist of either wall mounted, compact floor console, or wall/ceiling mounted indoor units.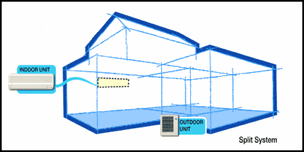 Multi Split Systems
A Creative Air Conditioning supplied and installed Multi-Split system can air condition from 2 – 7 rooms using only one outdoor unit. Multi-Split systems are ideal for situations where there is limited space for outdoor units or insufficient ceiling space for ducting.
A Multi-Split system allows individual control of the air conditioning in each room. This not only optimises comfort but saves on running costs as wastage is eliminated by only air conditioning rooms as and when required. On top of the savings generated from the flexibility of a Multi-Split system, further cost reductions are achieved from the energy efficient benefits of inverter technology.
Creative Air Conditioning Multi-Split systems are available in reverse cycle and cool only.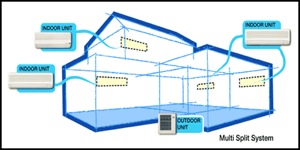 Inverter Technology
Conventional air conditioners operate at a fixed speed, delivering a fixed amount of cooling and heating. While trying to maintain a set temperature they operate on the 'stop and start' principle.

An Inverter is a more advanced technology which operates differently to conventional air conditioners. Inverters work like the accelerator of a car, gently increasing or decreasing power. It reaches the desired temperature quicker, which means uninterrupted comfort and significant energy savings.

Ducted Systems
A Creative Air Conditioning engineered and installed Ducted System will provide air conditioned comfort to an entire house. The unobtrusive and extremely quiet compressor unit is installed outside the home. The indoor unit is usually located in the ceiling or under the floor with flexible ductwork distributing conditioned air through vents located throughout the house. Ducted Systems can be programmed to heat or cool certain areas of the house at specific times. Zoning divides a home into two or more sections that can be heated or cooled separately. This enables living areas to be conditioned during the day and sleeping areas at night, reducing running cost by up to 50%. With the easy to use remote controller you can set a precise temperature for your room.